09-10 April 2013
Workshop with Guerrilla Girls and seminar on activism
100år! presents the American artists' group Guerilla girls and the seminar "Power to change!" on 9 and 10 April in connection with the Anniversary for the right to vote 2013.

Tuesday 9 April Wednesday from 10am to 4pm: POWER TO CHANGE! Strategies in Feminist and Human Rights Activism: Seminar at Bergen Public Library (free of charge!)
7pm: Gulabi Gang: Film screening at the Cinema in Bergen KP4 (80kr)

10 April at 8pm: Performance by GUERRILLA GIRLS at Landmark / Bergen Kunsthall (100kr/70kr)
POWER TO CHANGE! Strategies in Feminist and Human Rights Activism

Programme:
10:00 Helga Nyman -Art and Feminist Activism. Transforming Power Structures?
11:00 Joanna Rytel - Presentation of previous works
11:45 Arne Skaug Olsen- Presentation ofContained EnvironmentandSex Workers Manifesto.
The work is addressing the working conditions of Sex Workers in Europe
12:30 Lunch
13:15 Afrah Nasser, "Resistance to Women's Political Participation is Futile"
14:00 Steven Dixon, "Rape Culture, Activism and Intellectual Intimidation"
15:00 Discussions
19:00 The DocumentaryGulabi Gangat Bergen Kino (KP4)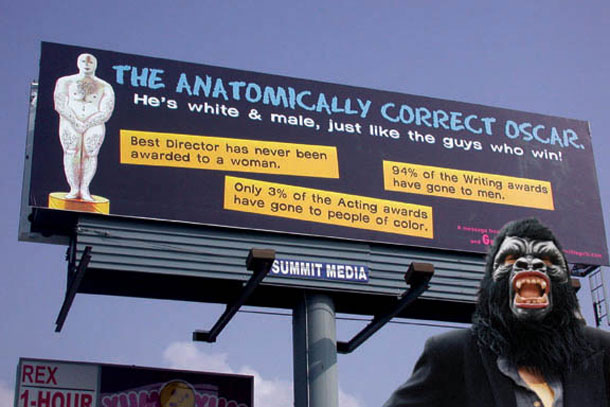 Helga Nyman is an Art Historian with a special interest in Architecture, Contemporary Art and Feminist Theory. Nyman studied at the University of Linköping in Sweden, and at the University in Bergen from where Nyman holds a MA in Art History. Helga Nyman´s thesis took upon archive, storytelling and remembrance in contemporary art. Helga Nyman works at the Stavanger Art Museum and as a freelance curator. Based in Stavanger.

Joanna Rytel is a Feminist Artist working with performance, video, photography and text. Themes in her practise includes sex, racism, abortion and male infertility. Joanna Rytel holds a MA in fine art from Konstfack in Sweden 2004. Rytel has exhibited extensively in Sweden, and also internationally. Based in Stockholm. Arne Skaug Olsen is an Artist, Curator, Art Critic, Writer and Publisher. Skaug Olsen writes for kunstkritikk.no, Camera Austria and Billedkunst, and is an editor of the publishing house Ctrl+Z Publishing.

Arne Skaug Olsen is teaching regularly at the Bergen Academy of Art and Design, Oslo National Academy of the Arts, The Art Academy in Trondheim, and the Nordland Art and Film school. Based in Bergen. Afrah Nasser is a Freelance Writer and Blogger since 2010 focusing on Women's Rights, Democracy, and Politics of Yemen. In April 2011, Nasser´s blog was featured as one of the 10 must-read blogs from the Middle East by CNN.com. Afrah Nasser has worked as a reporter for Yemen Observer newspaper 2008-2011, and the Swedish International Radio 2012 and currently works at Kvinna till Kvinna. Afrah Nasser has contributed to 2 books and co-founded the Yemeni Salon in Stockholm initiative. Nasser is a public speaker on Yemen's affairs and regularly writes columns about Yemen for publications in Yemen, Sweden, UK, Kuwait, US and UAE. Based in Stockholm.

Dr . Steven Dixon is an Artist and a Writer. Dixon holds a Phd in Philosophy and teaches Theory at the Bergen Academy of Art and Design. Dixon´s interests lies within Ideology in relation to Art Production, Gender Issues, Feminism and New Media. Based in Stockholm.

Gulabi Gang
In Bundelkhand, India,a revolution is in the making among the poorest of the poor, as Sampat Pal and the fiery women of her Gulabi Gang empower themselves and take up the fight against gender violence, caste oppression and widespread corruption. Enter the badlands of Bundelkhand and you have entered a place of desolation, dust and despair. And yet it is hope that we discover as we follow the pink sari-clad women of Gulabi Gang. These women travel long distances by cart and tractor, bus and train, to wrest justice for women and Dalits, undeterred by sneering policemen and condescending bureaucrats. Sampat Pal, their leader, is a rough-and-tough woman with a commanding personality. Despite her lack of education she has evolved her own brand of feminism and egalitarian politics. Her strength lies in her words. She is constantly on the move - today investigating a young woman's suspicious death, tomorrow protesting against a corrupt official. The gang encounters resistance everywhere - whole villages connive in protecting the perpetrators of violence. As the film pulls us into the centre of these blazing conflicts, it uncovers a complex story, disturbing yet heartening.
----------
Wednesday 10 April at 8pm: Performance by GUERRILLA GIRLS at Landmark / Bergen Kunsthall (100kr/70kr)

The event series 100år! are happy to announce that we will be hosting the well known artist group Guerrilla Girls' first appearance in Norway!

Two of the founding members, "Frida Kahlo" and Käthe Kollwitz", will arrive Bergen to hold a performance lecture at Landmark / Bergen Kunsthall this Wednesday April 11th, and a workshop at KHiB Thursday April 11th. The workshop will result in an exhibition that opens at KNIPSU May 22nd.
Guerrilla Girls is a group of artists and feminists that fight against sexism and racism within the International art world. They appear in gorilla masks under pseudonyms of past female artists in order to cover their own identities. Anonymity is used as a strategy to loose the individual focus in favour of the collective. Guerrilla Girls was formed in New York in 1985 as a reaction against the MoMA exhibition "An International Survey of Recent Painting and Sculpture", where only 13 of the 169 participating artists were women.
----------
We are launching the project 100år! For many Norway is the symbol of a privileged reality in which human rights and the right to vote is a given. But even in one of the most egalitarian societies in the world we have still not reached the goal of gender equality. For many Norwegians the word feminism is a four letter word. 100år! is a parade of exhibitions, events, seminars and workshops spanning all of 2013. It has taken more than 2000 years to build the concept of human rights and dignity. We want to celebrate the historical effort leading up to universal voting rights. 100år! has a critical focus on our times and how the right to control one's personal life is still worth fighting for. Through art we seek to promote and encourage a diverse set of voices to be heard and to add new perspectives to issues such as the right to vote, equality, activism, power and representation.
The initiators of 100år! are Maya Økland and Hilde Jørgensen, Artists and Managers of KNIPSU, Malin Barth Art Historian, Curator and Director of Gallery 3,14, Helga Nyman Art Historian and Curator and Heidi Nikolaisen Artist and Assistant Professor of Photography at Bergen National Academy of Art and Design. The key feature is collaboration as process, which enables a diverse and complex program with a wide and mixed approach. The group wants to allow different traditions and discourses to meet and exist - side by side - in a polyphonous expression.
Please have a further look at our website www.hundreaar.no where we regularly will publish texts from artists, writers and thinkers throughout the year.
100år! is supported by the Norwegian Arts Council, the Freedom of Expression Foundation, Oslo (Fritt Ord), and the Bergen Academy of Art and Design.