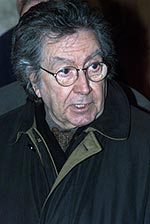 Antoni Tàpies
PRINT AND SCULPTURE


3,14 have been given the great opportunity
of curating an exhibition of the works of the world-famous Spanish artist Antoni Tapies.
The up-coming exhibition consists of a combination of prints and sculptures form 1991 - 2001
Antoni Tàpies was born in Barcelona,
13 Dec 1923.
Spanish Catalan painter, draughtsman, printmaker and sculptor. He was encouraged by his home environment to form an early interest in cultural and intellectual matters, especially in music and literature; his father was a lawyer and his mother came from a family of booksellers.
He first came into contact with contemporary art as a teenager through the magazine D'Ací i D'Allà, published in Barcelona, and during the Spanish Civil War (1936–9), while he was still at school, he taught himself to draw and paint. As early as 1942, when he was recovering from a lung infection, he produced pictures clearly influenced by van Gogh and Picasso (e.g. Figure, 1945; Barcelona, Josep Gudiol priv. col., see Cirici, 1971, p. 67); during this period of enforced rest and tranquillity he dedicated most of his time to reading French and Russian novels.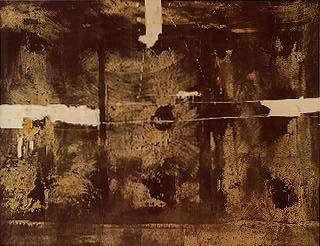 In 1944 he began studying law at Barcelona University while also attending evening classes in drawing at the Academia Valls Tàpies produced his first works in thick impasto in 1945, and in 1946 he decided to abandon his studies in order to devote himself entirely to his art. Initially he produced both figurative and abstract works. In the former he concentrated on strangely proportioned human figures, with the face completely dominating the composition, as in the van Gogh-influenced Zoom (1946; Barcelona, Sala Gaspar) in which an inverted face can be discerned in the centre of the composition.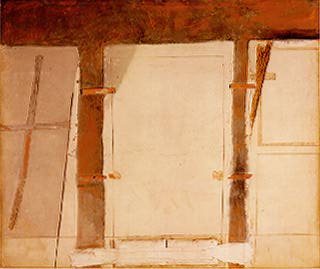 Wishing to bring out the textural qualities of paint, Tàpies mixed ground white chalk and pigment into the oil medium and used a grattage technique to scratch the surface of the paint, creating striking contrasts between sunken and raised areas.

His early abstract works were generally collage-based paintings on cardboard, often incorporating fragments of newspaper, as in Newsprint Figure and Son (1946–7; Barcelona, priv. col., see Combalia Dexeus, pl. 1).
In other such works, for example Collage of Strings and Rice (1947; Paris, Henry Lazard priv. col., see Cirici, 1971, p. 66), he introduced a variety of materials generally considered outside the realm of painting. It was with works of this type that Tàpies established his international reputation in the late 1950s as one of the most innovative painters associated with European developments such as Art informel and Matter painting. Tàpies was one of the founders in September 1948 of Dau al set, a group influenced by Surrealism and in particular by its dream imagery and automatism. During this period, which for Tàpies lasted until 1951, he pictured monstrous, deformed beings in erotic situations or betraying an ironic attitude towards religion, with colour, light and shadow all directed towards the creation of magical atmospheres. Cat (1951; Barcelona, Cesáreo Rodriguez Aguilera priv. col.) is typical of these paintings.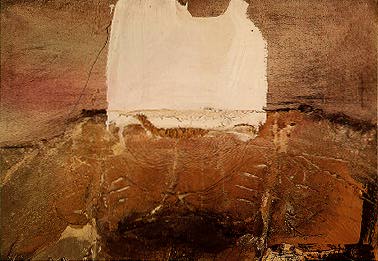 Tàpies soon abandoned this vein of fantasy and from 1953 dedicated himself completely to the exploration of materials within the general terms of Art informel. In increasingly austere mixed-media paintings such as Big Grey Painting (1.95´1.70 m, 1955; Düsseldorf, Kstmus.) he severely restricted his range of colour while mixing materials such as crushed marble into his paints to achieve an extraordinary texture and thickness.
There are a number of constant factors during this period of his work, which lasted until 1968: a sense of compositional order; a reliance on a variety of techniques to obtain a material density and coarseness of texture; a sober and sparing use of colour, usually no more than two or three in a single work and during the late 1950s with a preference for neutral hues such as white, black and grey.
One of the most impressive works of this period, because of its extreme simplicity, is White Oval (1957; Krefeld, Kaiser Wilhelm Mus.; see fig.), a virtually monochrome painting almost completely filled by an oval of cracked and crusty paint. In the late 1960s Tàpies was influenced by Pop art to incorporate objects from his immediate surroundings into his paintings. He often chose these elements for their anthropomorphic connotations, as in Sock (1971; Paris, Gal. Lelong, see Combalia Dexeus, pl. 39). His subsequent interest in Zen philosophy and in the idea of the void led him to produce conceptual installations and objects such as Piece of Cloth (assemblage, 1010´590´120 mm, 1973; exhibited in New York, Martha Jackson Gallery, now closed; see Combalia Dexeus, pl. 49), a roll of material held together by the string from which it is hung.
In their humbleness of material and simplicity of construction such works bear comparison with those produced during the same period by the Arte Povera artists. The paintings produced by Tàpies later in the 1970s and in the 1980s reveal his application of this aesthetic of meditative emptiness, for example in spray-painted canvases with linear elements suggestive of Oriental calligraphy, in mixed-media paintings that extended the vocabulary of Art informel, and in his oblique allusions to imagery within a fundamentally abstract idiom, as in Imprint of a Basket on Cloth (1980; San Sebastián, Eduardo Chillida priv. col., see Combalia Dexeus, pl. 65). His extreme sensitivity towards the qualities of different materials was also put to remarkable use in his extensive production as a printmaker, particularly in etchings and aquatints that stressed the physicality of the inked lines and surfaces. He also produced free-standing sculptures and monumental reliefs such as Monument to Picasso (1983; Barcelona, Paseo del Borne).