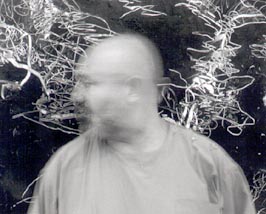 The Catalonian artist Joan Cruspinera won the National Printmaker's Prize in 2000 (Calcografia Nacional/Academia de Bellas Artes de San Fernando in Madrid), based on the works he showed at his latest exhibition at Gallery 3,14 featuring fifteen large format etchings and two installations; All Eyes and Ebb&Flow.
The exhibition will be held in the prestigeous Zilinskas Gallery, At The Ciurlionis National Museum of Art, Kaunas Lithuania,
Dec. 7th 2001 to Jan. 20th 2002.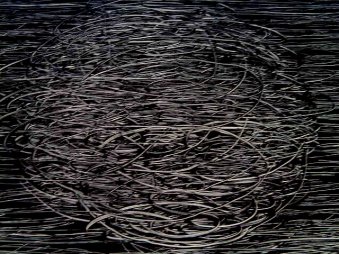 ALL EYES / EBB & FLOW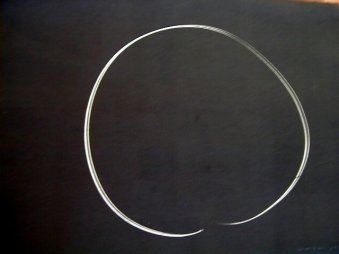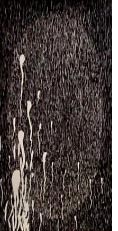 Cruspinera pries his way through the mass of blackness scratching lines, spots, strokes, stains and tangles; an unrestrainable pleasure searching for fissures. A quest for energy and dynamism of structure at a point of balance between two poles, the construction and the dissolution of forms, the matter and the void, the solid and the fluid. The elemental figure – the oval – plays the role of a paradigm submitted to the action of motor forces. The itinerary develops the human body confined in a fetal posture forming a buckle to the face considered as a public space practicable by a foreign glance (Face Tracking). It moves on from the insular eye disclosing light and becoming ironically the ultimate addressee to the ovid shape of the Big Crunch series engrossed in its internal topography. On the way the chrysalis state transmutes into a cosmic phenomenon. Dilated to the maximum on the surface of the late etchings the monolith is taken in a double movement wawering between contraction and expansion as a query about the future of the universe.
In the installation Ebb&Flow the shadow substitutes volume. A collection of outstanding though tiny forms as locked boxes cast in iron point towards the hazy digital images. Like hide and seek. The ambiguous game shapes a whole mosaic of multiple identities. The same, but somehow different.
Pak & Ula / 2001