The Language of Signs in Metal and Enamel

Exhibition of Naglis Rytis Baltusnikas
by Ermina Taujenyt

Theme and content

Black and white road signs – that was the first impression when seeing the exhibition of Naglis Rytis Baltusnikas' works called Spaudai / Prints.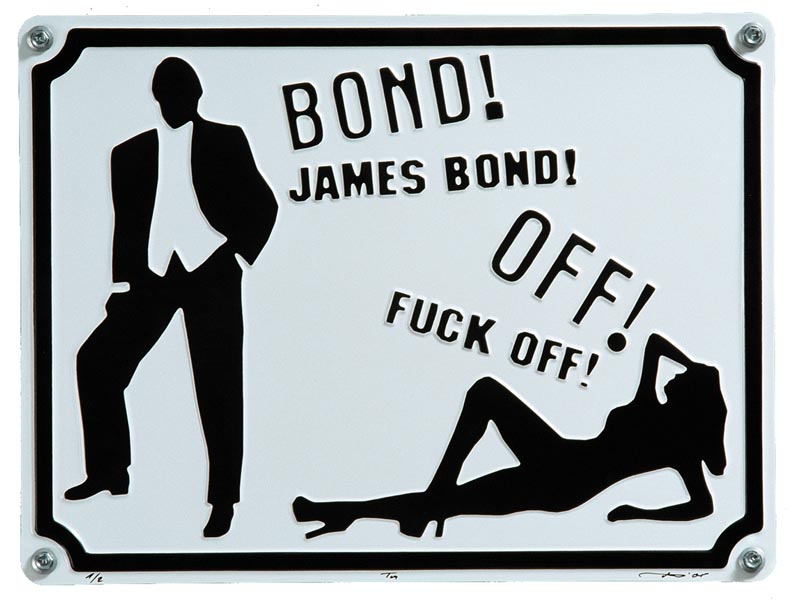 The prototype of metal plates is license numbers and road signs. Baltusnikas applies this preconception and with laconic comments he adds ironic inscriptions or notes to upset our conceptions. The original technical artistic expression puzzles the spectator. The works are created by using metal and enamel. Monochrome colouring – black and white – creates a sharp contrast, intensity and topicality to the pieces. It seems that the works seek to be relocated from the closed space of a gallery to the living environment of the public space.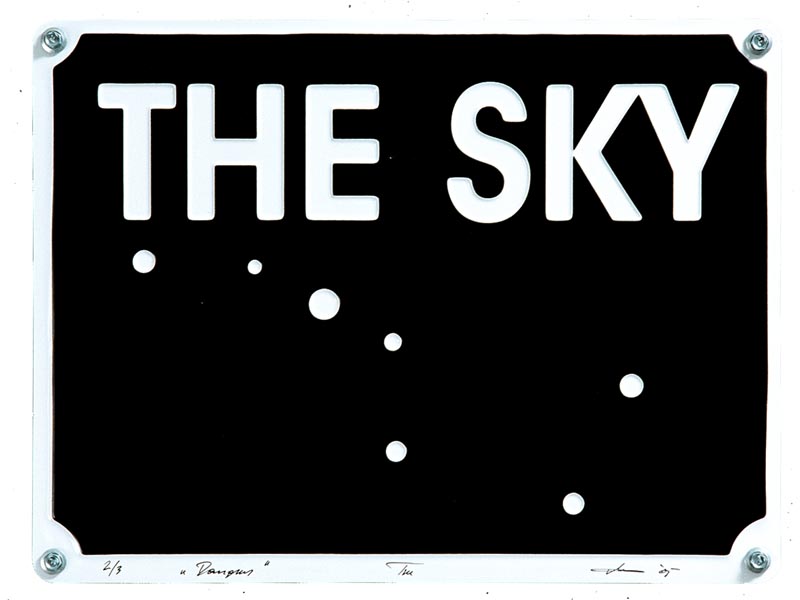 Black contour on a white background is consistent to almost every work, except The Sky /Dangus, where white lines have black background. This particular work refers to an ironic art- project called 'Collect Beer Glasses and Become a Collector'. What is more important – the text or the shape of the signs?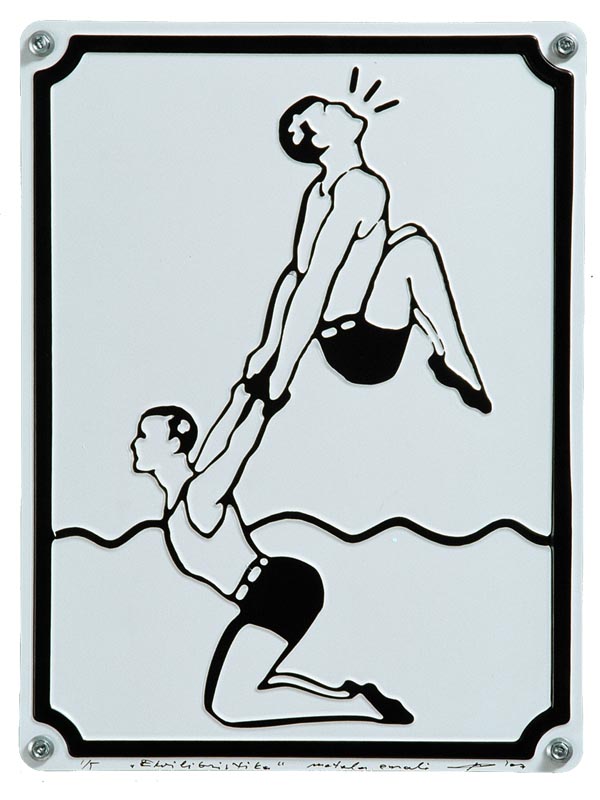 Both elements compose a unified contradiction. People are portrayed in movement or exercising, e.g. _aukia /Calling, Ekvilibristas / Equilibrist. Distinct lines, which rarely fill the entire space in rich black colour express the desirable perfect visual angle to the accompanying. Remember, Christmas is not a Game! / Atsimink, Kal_dos – ne _aidimas is a sarcastic text next to a man fighting a bear.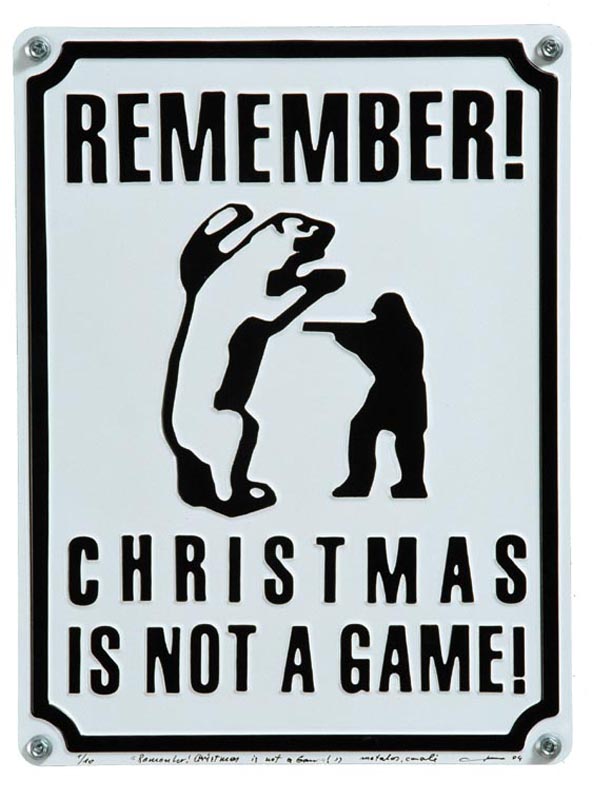 The plot captures our attention. The artist plays with the form expressing the idea. The works' rigidity is created by the frame encircling all of his works. A thin line which doesn't destroy the composition; on the contrary, it creates a separate field of action. One of the exhibits, a self-portrait called A_ / Me, has no touch of the straight and uniform line characteristic to the other pieces. The said work is notable for its oval frame like on old photographs. The self-portrait itself is made with the same technique; facial features are drawn in rich black enamel lines.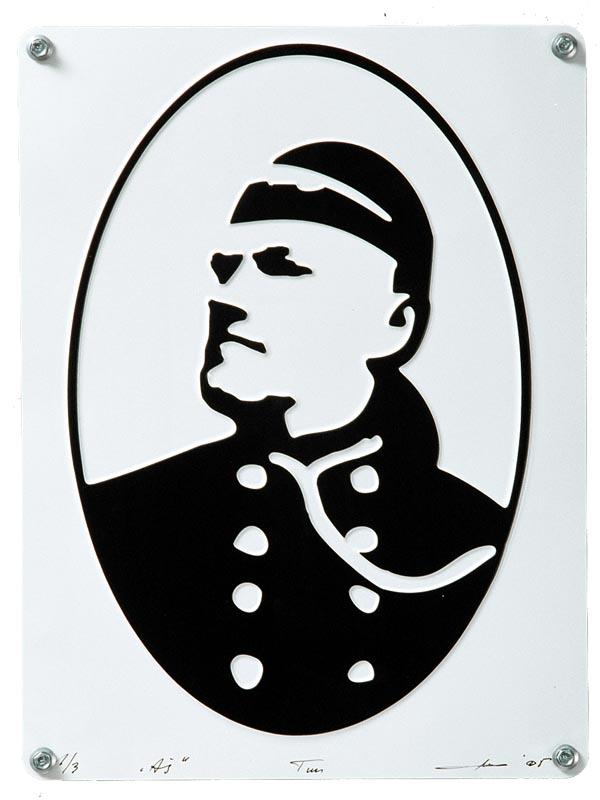 Next, there is a cycle of five works. Oblong pieces marked with: a, b, c, d and e. Similar to the sequence of the alphabet, the shape is in gradual ascent. The whole space is filled with synchronic vertical strokes depicting a ladder, creating the illusion that the image portrays a physical exercise. The artist refuses to use the physical form as a symbolic sign. Baltu_nikas is primarily a printmaker. His strange symbolic works exist on the border between art and public signage. Their effect is quite stunning. They would look good on the main-street. He expands the concept of classical graphic arts. Objects depicted by the artist balance on a thin line between funny and absurd and social and cultural stereotypes.