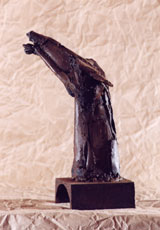 During my education at the Art Academy, I put a great effort into comprehending the quality of classical art. This knowledge permitted me to work more freely. Sculpture as a medium also allows me to present and to deal with those issues I want to discuss. I have tried to use and to make myself acquainted with several different materials in order to use my creativity as well as possible. I wanted to show my innermost feelings through my sculptures. I narrowed it down to one particular subject: "Icarus' story". This was also the theme of my graduation show at the Academy of Fine Arts.

My feelings and my attitude towards the world are equally harsh and painful as in the story about Icarus. He just becomes a formula of an insane human impulse towards achieving the inaccessible. His fall is only a logical consequence. This myth is similar to stories from the Bible.

In the thousands of years that have passed man has not significantly changed. I also feel this attitude in my people and my country. I am sure that my childhood was full of "Icarus".

I spent my childhood close to the iron factory, melting old scrap metal which builds and destroys the world. I have been a few times there lately, working on my new sculptures.
Among the waste materials I found discarded materials. In some of my works people will be able to recognise objects which were used in wars still going on in my country.

In order to avoid becoming pathetic I do not use other accessories than wings - a symbol of failure. I could not present the psychological drama of the soul better than with a body in motion. Using parts of machines as elements of the sculptures, geometrical processed masses in combination with malleable tin symbolising the softness of the body, I bring Icarus to the here and now.

The sculptures give the visual impression of decomposition, so that the intention can be recognised clearly. In most cases I use metals but also combinations of materials. When I work on a sculpture, I am part of a process similar to building wings; I want to remind myself of something from the Icarus myth. The obligations I have to my society pull me away from my work, but perhaps thinking about them can bring me back to a new starting point in my art.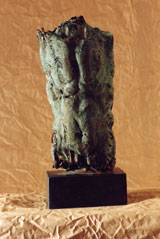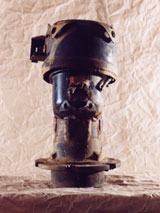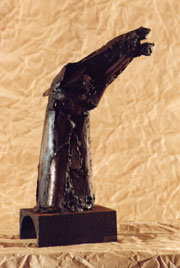 RAJKO SUSIC

The sculpture exhibition of R. Susic's, a talented young Montenegrinian sculptor are created in the last decade. R. Susic graduated from the Department of Visual Arts in Cetinje under the tutorship of professor Pavle Pejovic, certainly the most merited sculptor in Montenegro over the last 20 years.

Seeing from the point of extremely understandable and simple definition, the art of sculpturing is historically a system and practice of three-dimensional objects.
Up to modern and post-modern art, sculpture like every other activity determined by conventions and by history, is determined by internal logic and rules.
However, modern and post-modern sculpture is a multi-expressive and complex process which happens through tension, opposition and development of different courses.

The key for understanding the art of Susic lies in a heterogeneous, modernized conception, not intended to replicate experiences of traditional, classical European mimetic sculptures as they were created from antiquity to the end of the 19th century.

It is easy to notice his belonging to figural art.

In a typological sense Susic's sculptures don't belong to the art of a realistic replication of a real model. They have the characteristics of symbolic - allegorical art with a basic goal, to demonstrate concrete or imagined situations and events.

His suggestive sculptures demonstrate a wish to express the artist's internal psychological and spiritual state lending them a sphere of figural expression.

In order to do so he uses discarded metal - litter.
The ready-made discarded parts of obsolete machines and tools are skilfully shaped into planned three-dimensional forms.
A critical analysis of Susic's sculptures offer energy of expression, symbolic and allegorical messages and a sincere dedication.
He is recognized not only as a young, serious artist - but is needed in the whole visual art and culture of the country he comes from.

Art historian
Alexandar Cilikov
Academy of Visual Arts, Cetinje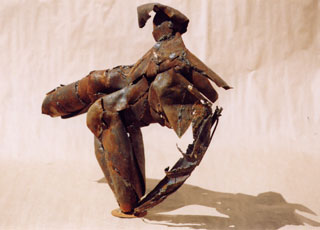 The need to tell the truth is the only counterpart to banality, and banality is immoral. It is equally immoral whether it stems from ignorance or from cowardice. Banality from ignorance gives uniformity, destroys human thought, and by its all-consuming character - produces only waste. Banality based on cowardice becomes lies. People who are used to banality often stop questioning the truth.

Forgetting that art does not exist - the artist only exist - art is accepted with a capital 'A'. The original link between people and art has been severed. In the quiet, consistent and devoted artists' lives we find the glue which would perhaps have the capacity to restore the parts of a smashed mosaic. Such hope is visible in Susic's work. He not only lets his works boast his craftsmanship. He also plays with different materials, infusing them with new sense and life. This is done with such ease and confidence that we almost forget their former use and function. His sculptures come to life from discarded man-made objects and take on an aura which denotes their former usage. They become relevant. His works come to life to express what he intended them to: language.

Well-educated, curious, with a child's joy he plays with everything his hand touches. This playfulness is liberated through his knowledge of materials, linked with his sensitive temper. We want to take part in his creative process, to feel the delight of creation.

Mirko Tolic

Professor, Academy of Cetinje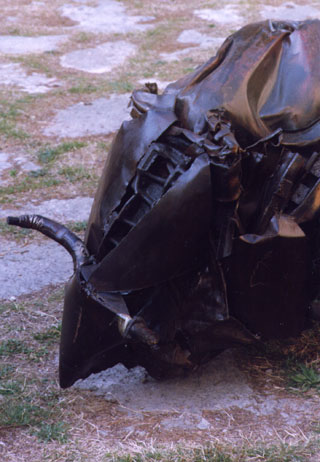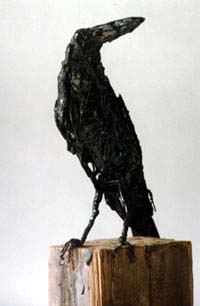 R. Susic has reached creative maturity. The serious experiences are behind him: personal, exploring and creative on one side, and the experience of the facts of history and what happened with our art practice on the other side.

The iconographical basis of his sculptures is rather simple and undetermined in a range between the figural, associative and the abstract.

Symbiosis of the concrete and the abstract and balancing art's elements are sculpture- making's essence. Susic shapes the sculpture from found metal parts by welding.

His use of readymade objects have rich aesthetic potential. Some sculptures are even close to the art of painting (of informed).

Susic works with waste iron, transforming it into sculptures in which the metal has lost all its previous features. By these inadequate means, the artist forces himself to search for new inventive solutions. His sculptures are linked in a strong, stable form of unusual shapes, necessary movements and the need to move and transform.

The structure of the surface is rough and somewhat rustic.

His creative work is the skill of spirit and hands, his sculptures are from seen things.

Sculptor Milivoje Babovi
Department of Visual Arts Cetinje