Ding Yi by Nataline Colonnello, May 2003

The title "Appearance of Crosses" is an almost forced choice for a solo exhibition focused on Ding Yi's (*1962, Shanghai, lives and works in Shanghai) abstract works: this, in fact, is the name the painter gives to what can be regarded as his only pictorial series from 1988 until today.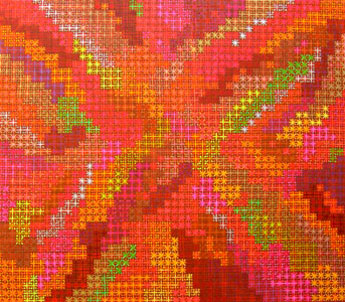 WIn technical terms, 'cross' is a basic headword drawn from the vocabulary of colour printing, an art to which Din Yi was trained at the Shanghai Arts and Crafts Institute as well as at the Fine Arts Department of Shanghai University.In abstract terms, or better, in terms of Ding Yi's abstract painting, the cross is the most elementar pattern that, created by the orthogonal intersection of a vertical and a horizontal line, constitutes the fundamental visual key marking his artistic creation so deeply that, throughout a fifteen-year period, it became an immediately recognizable distinguishing constant.

Born as a personal revolt against the conformism of Chinese traditional 'literati painting', Ding Yi's crosses were initially arranged in extremely regular and repetitive geometric structures influenced by Mondrian and De Stijl-painters' researches.

With his architectures he seemed to aim at a meticulous systematization of semplicity opposed to the bombastic rhetoric of classical skill: thus his crosses on the surface of the medium can be read as the embodiment of a deliberate 'diffusion of pictorial illiteracy' (worthy of note that his first works are mostly black and white). The artist affirms: "Whatever you depict, whichever style you use -representational, abstract, portrait painting and so forth- you always express your personal view on art. In the paintings of the first stage, for instance, there is a painstaking thoroughness typical of handicrafts; afterwards, instead, I reassessed my opinion toward Chinese classical thought. This change is noticeable in later works".

As the painter himself mentioned, from 1991 his works started undergoing a process of progressive release from the rigorousness of previous compositions. Ding Yi put aside the ruler and the tape in favour of a richly coloured freehand painting and a wider experimentation of materials such as charcoal, chalk, pencils, watercolours and mark-pens. At that time he also started exploiting various supports like paper, canvases, fans, folding screens and tartan. Although more casual and slackened, his lattice structures never disappeared: "In my works the 'grid' is something fixed", says the artist, "colours and internal forms, on the contrary, are those free elements able to create visual movements and tensions".

The geometric structure is framework, namely fabric of the painting, a fabric in which weft and warp are interwoven in a texture of essential units in a cross form. No surprise, then, that Ding Yi's works look like multicoloured cloth. They are often painted on tartan, a fabric with a fixed and regular structure. Ding Yi employs tartan because, he states, "today you can find it everywhere: on clothes, sofas, sheets, blankets, design objects, etc.". If in the begininning Ding Yi subjected this medium to a priming process as for a common canvas, later he preferred to paint directly on its surface. In his latest paintings, he went back to the primer again, but now in a full awareness of it.

Talking about his works, Ding Yi says: "In my paintings there is my spirit. My spirit influences my art as well as my attitude towards art determines my spirit". His crosses, then, cannot be interpreted from a Christian point of view, since the artist excludes all openly religious connections between he himself and his creation. In his case, the spirit he mentions, according to Chinese traditional thought, is rather of a philosophical nature. With his recent paintings, Ding Yi shows he has interiorized his own culture without escaping contemporary life: the subjects hidden in his last chaotic and lively pictures are nothing but views of today's Shanghai.