JUDY PRICE
"Quarries of wandering form"
Multi-screen installation
25.03. - 02.06.2017

Curated by Malin Barth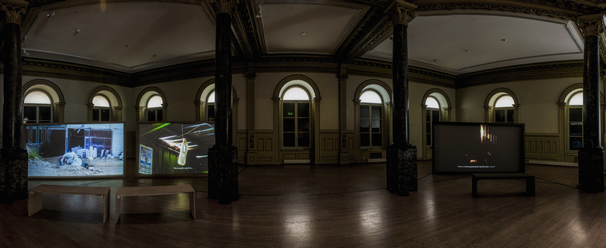 Quarries of wandering form excavates a number of narratives around the quarries in the Occupied Territories of the West Bank through film and photography.

White Oil is long form film that unfolds narratives around colonialism, expropriation of land and mobility through the day-to-day lives of the quarry owners, workers and security guards This includes their personal histories and experiences as well as the changing landscape and conditions of the quarries bringing to bear the myriad losses of land, economy, identity, history and community. Photographs of olive trees make visible the effects of the quarries on the surrounding landscape and symbolises a region that has been suffocated by the Occupation yet also resists and endures the violence to this landscape.

Judy Price works across photography, moving image, sound and installation and is interested in how art can create new perceptions of the experiences of individuals and social groups and arts' effectiveness and relevance to collective struggles. Her practice involves extensive field research where she explores sites and locations that are interweaved and striated by a multiple histories, economies and forces. She often employs multiple strategies drawing on images and sounds from archival sources as well as from a sustained study of a place that is resonant with overwritten histories and redrawn boundaries.
Judy Price (b. 1967, London, Britain). Her work has been exhibited and screened internationally including; UK (Imperial War Museum and Barbican, London and Tent Gallery, Edinburgh), Norway (Stiftelsen 3,14 and USF Centre Bergen), Canada (Galerie Leonard & Bina Ellen Art Gallery, Montreal), Germany (Kunshaus Cinema), and Palestine (Khalil Sakakini Cultural Centre, Ramallah and AlMa'mal Foundation for Contemporary Art, Jerusalem). In 2013 White Oil was screened at the Kunshaus Cinema, Nürnberg, Germany, and Palestinian Film Festival, Barbican, London.
Price is also a Course Director in Photography (MA) at Kingston University, and a Senior Lecturer in Moving Image (BA) at the University of Brighton.

Judy Price is also relevant with the parallel solo exhibition at The Mosaic Rooms in London, from April 7th through June 17th.
[www.worldofmatter.net/judy-price]
Quarries of Wandering Form, text by Judy Price >>>
Interview by Christiane Monarchi, Director of Photomonitor, about White Oil. >>>


.........................................................................................................................


SIRI HERMANSEN
"Dreaming in the Stone-bed Valley"
Video, HD 1080p
25.03. - 02.06.2017

Curated by Malin Barth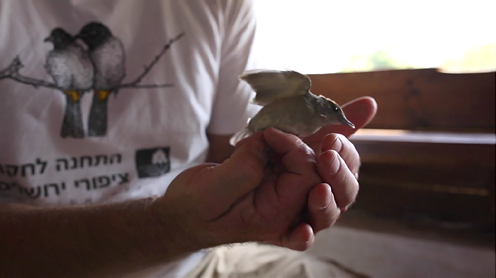 Dreaming in the Stone-bed Valley by Siri Hermansen is a non-verbal short-film with two micro stories that seeks to reflect on how the long term conflict turns the abnormal into the normal and the extraordinary becomes ordinary, and that this process of normalization is a survival strategy in itself. The stories express how human, nature and politics down to the smallest individual level are closely intertwined and affected by the long term conflict between Israel and Palestine. Temporary adaption and survival strategies become permanent solutions and part of everyday life. Duality can also be seen in her photographic image Two Horizons. Hermansen has for this work been traveling to Jerusalem and the West Bank. In her travels for work she seeks places that have undergone major upheavals or deep processes of change, that have affected globally. She is most concerned with how people and nature adapt and develop new survival strategies in places like the West Bank.


Siri Hermansen (b. 1969 in Geneva, lives and works in Oslo). Her work has been exhibited and screened internationally including; Sami Center for Contemporary Art, Kautokeini, Oslo Kunstforening, Stenersen Art Museum, Oslo, RAM Galleri, Oslo, Central House of Artists, Moscow, Fondazione Pastificio Cerere, Roma, Kunstbanken, Hamar, Tromsø Kunstforening, Møre og Romsdal Kunstsenter, UKS, Oslo, Sørlandets Kunstsenter, MK Gallery, Rotterdam, Seoul New Media Festival, 19th Biennale of Sydney, Detroit Contemporary, Tromsø Museum, Moscow Museums of Photography, Today Art Museum, Beijing, M. K. Čiurlionis National Art Museum, Lithuania, Haugar Kunstmuseum, Tønsberg, Oslo Kunsthall, Galerie Yoshii, Paris, France.

Siri Hermansen is otherwise relevant in the exhibition The Place Between Here and There at Akershus Kunstsenter in Lillestrøm, from March 24th through April 30th.

[www.sirihermansen.com]
Siri Hermansen in conversation with Johnny Herbert >>>


.......................................................................................................................

PARABOL - the parabolic loudspeaker at 3,14:
UTSPILL is a collective work with contributions by local artist in Bergen, that will be playing over the next three exhibition periods. It will expand as a work in progress, as more artists provide 3,14 with their explorations in sound about how we should relate to the fact that we live in a post factual era. The participating artists will be listed continuously at 3,14 and on the web site, under "sound".
Participating artists:
Eleanor Clare
Title: "We Witness", 2017
Duration: 00:59min
[www.eleanorclare.com]
Jane Sverdrupsen og Alvar Sverdrupsen
Titlel: "Bare et barn", 2017
Duration: 00:66min
[www.janesverdrupsen.com]

[www.stiftelsen314.com/sound.htm]
.........................................................................................................................


APICHAYA WANTHIANG
"While the Light Eats Away at the Colors"
A painterly installation
13.01. - 19.03.2017

Curated by Trond Lossius and Malin Barth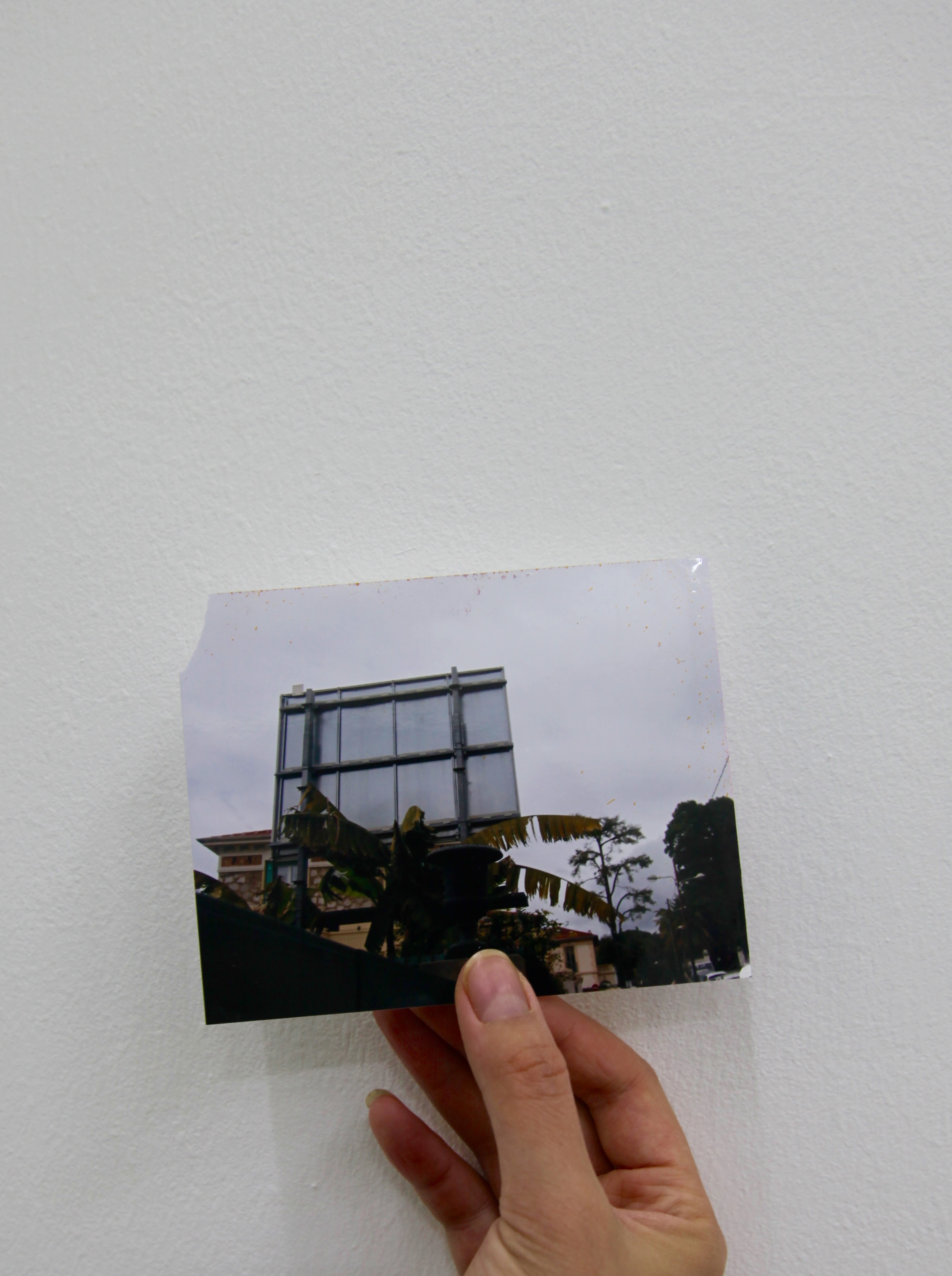 The nearly imperceptibly taste of sea salt lingers on my tongue. Memories flash in front of my mind's eye. A broad boulevard follows the coast, lined with singular palm trees. The weather is sweater-breezy and the light eats away at the colours. Shades of greens and blues that make up the sea seem to be floating, as if the colours carry no weight.

In the distance, I see the white chapel's silhouette popping up. The blue stained glass shimmers like a wavy walk. I stretch my arm and point at it. Lifted from the surrounding landscape, the chapel lands on the top of my index finger. I squint a little, and try to block out the flood of light. I close my left eye and then both. The chapel dances to and fro. Distracted in play, I am a place without body.

The following day, on the drive through the meandering hill sides, clusters of houses recede in the far distance. Inside the red house I find a small painting of the boulevard with the palm trees. The storm in the painting nearly sucks the palms into the twirling grey sky. All of a sudden I realise that only a few decades ago he was looking at and painting the same landscapes – a corresponding timescape?
"While the Light Eats Away at the Colours" is a painterly installation by Apichaya Wanthiang. The exhibition is extended in time as well as space, and offers a slow spatial narrative that invites the audience to engage with the works for prolonged periods of time.

Apichaya Wanthiang graduated in 2009 with a BA from Sint-Lukas Brussel and 2012 with a MA in Fine Arts from Bergen Academy of Art and Design. She works with painting, video, installations and texts dealing with slow time and the construction of (fictionalized) places. Her interest lies within the small and the anecdotal, with the aim of constructing a shared space. She has exhibited at Martin Van Blerk Galery in Antwerp, Hordaland Kunstsenter, Bergen Kunsthall, USF Visningrommet, Barents Spektakel and UKS. She has worked at BEK, Bergen Centre for Electronic Arts and as guest teacher at the Bergen Academy of Art and Design and Trondheim Academy of Fine Art.

The exhibition received funds from Norske Billedkunstnere (NBK).

[apichayawanthiang.com]

Reviews:
Klassekampen >>>
Kunstkritikk >>>


> SEMINAR
16.01.

3,14 hosts a one-day seminar Monday January 16th 10:00-14:00 on the core topics and investigations of the exhibition, with contributions by Eamon O'Kane, Trond Lossius, Johnny Herbert and Apichaya Wanthiang in conversation with Malin Barth. The seminar is a collaboration with Institute of Arts, Faculty of Fine Art, Music and Design, University of Bergen.
more information >>>
.........................................................................................................................


LEIGHTON PIERCE
"50 feet of String"
Video. 1995, 51 minutes, color, mono sound 16mm presented as digital file
All aspects by Leighton Pierce
13.01. - 19.03.2017
Curated by Malin Barth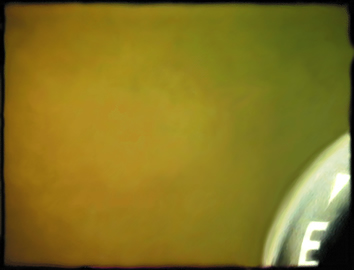 3,14 is very proud to be featuring experimentalist filmmaker Leighton Pierce with his award-winning feature film 50 feet of String.

50 feet of String, is a work reframing familiar pace. Pierce composes a film united by 12 movements, all with subtle repeated pulses of daily life. The work consists of carefully constructed shots composed from Pierce´s immediate surroundings, in and outside his home. Time and rhythm engages the viewer´s imagination, expanding and filling in what can´t be seen but implied.

Leighton Pierce explores experience in time through his film and video work, with the aim to induce the viewers to linger. He is committed to causing small, but acknowledged changes to a viewer's sense of time, perception and memory. His use of image and sound creates a sense of balance between the known, the comprehensible and predictable as opposed to the unknown, the abstract and unexpected. The cutting of grass, a passing bus, rain on the window, and the use of a child's red plastic spade loops around. Then the reappearance of the string, running diagonally and subtly across the frame creating a shift away from the familiar. Pierce applies and masters a depth-of-field perspective in order to construct a narration that is both associative and enticing. The abstraction allows the viewer to engage with their own personal memories as well as a more collective memory. 50 feet of String evokes painterly qualities. The film with its progressional flow, emits a sense of watching a painting slowly transpire before one's eyes. Time and again, each new image that appears, enthuse a decoding process. Not from having to decipher the elusive images, but by affecting the viewer´s emotions and the perception of a place in the world and in the everyday.

The film allows the viewer to pause and reflect in brief intermissions created by the black frames and intertitles for the 12 segments. This also initiates anticipation of the next movement. The sound is equally important to the abstracted image. It is constructed, layered and processed to effortlessly engender emotional and temporal effects. The sound is a significant part of the viewing experience of this nearly hour long film.


..........................................................................................................................

PARABOL - Parabolic loudspeaker in the gallery´s entrance

Nathaniel Mackey with Royal Hartigan and Hafez Modirzadeh
'Song Of The Andoumboulou 25' from Strick: Song Of The Andoumboulou 16-25
13.01. - 19.03.2017
Nathaniel Mackey – Voice and Text
Royal Hartigan – Drum set and donno
Hafez Modirzadeh – Zorna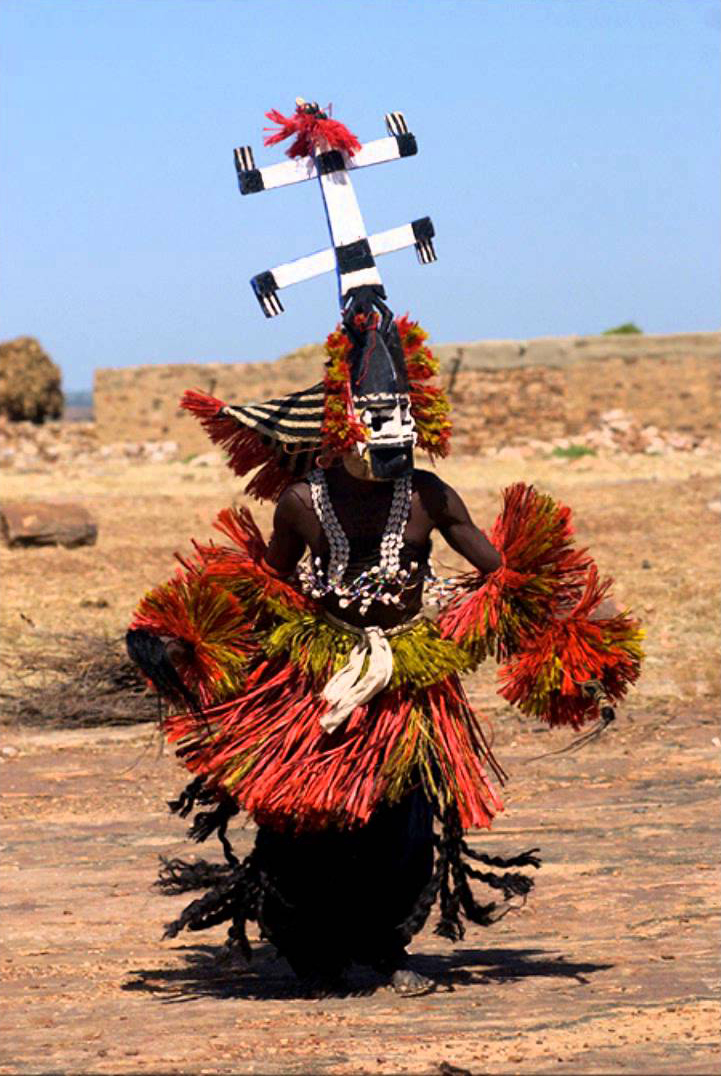 Image: A masked dancer of the Dogon people

Nathaniel Mackey reads Song 25 from Song of The Andoumboulou, one of his on-going poetic series, accompanied by the zorna, a Eurasian wind instrument, and percussion including the donno, widely known as the 'talking drum'. Coming from the thought of the Dogon people in Mali, "The Andoumboulou", Mackey states, "are a failed, earlier form of human being in the Dogon cosmogony."

©1995 Spoken Engine Co.
Executive production: Lindsay Hill
Literary production: Paul Naylor
Musical production: Billy Panda
Presented by Stiftelsen 3,14, PARABOL situates an adjacent ambience and mode of address in dialogue with the gallery's exhibitions.
Organised by Johnny Herbert

..........................................................................................................................


"DWELLING PLURALITIES"
at YOUSUF BUILDING, (FATIMA BUILDING), KOCHI, INDIA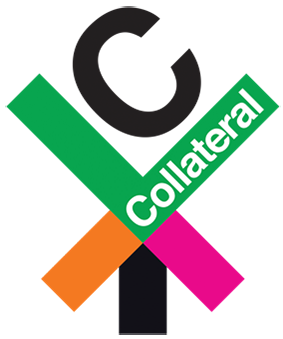 [kochimuzirisbiennale.org/kmb_2016_collaterals]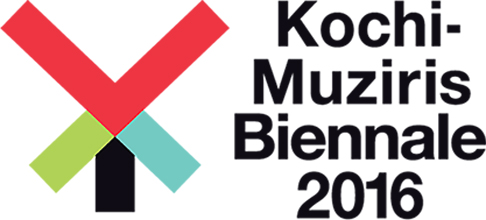 13.12.2016 - 24.03.2017

> Opening 13.12. at 18:00 at YOUSUF BUILDING, (FATIMA BUILDING), 7/644 JEW TOWN, KOCHI
The artists and the curator will be present

Exhibition opening hours: 10-18

The exhibition features artists Gigi Scaria, Suvi Nieminen, Erik Friis Reitan
Curated by Malin Barth


The exhibition "Dwelling Pluralities" at the Yousuf Building is a pluralistic juncture, a collection of responses from both Indian and Norwegian artists on an appreciation on pluralization of world relation. The works are commissioned and produced for this exhibition as a collateral project in the 2016-17 edition of Kochi-Muziris Biennale.

The installations are open-ended in their symbolism, referrals, and metaphors; exploring how society deals with its cultural heritage. How can approaches to identity, culture, tradition and history become a resource? How can we give yesterday and today, a tomorrow?

The project consists of works that complement and communicate with each other and address the issues of cultural and social challenges. Even though Kochi, Kerala, India and Bergen, Hordaland, Norway are remotely connected with geography. Kochi with its back waters and Bergen as the gateway to the fjords witnessed the early human expeditions and the great ages of discovery. Thus, both cities have acted as maritime gateways and important trading hubs that not only facilitated moving of goods, but also of cultures. As such, they have participated in networks of communication that can be seen as early stages of globalization. The project will connect the two cities culturally and artistically, thus opening a new bridge for communication that would fill the geo-political and territorial gap between two cultures that clearly differ greatly with their geographical placement, social control, economic models and cultural dynamics. The exhibition may simply allure to converging and diverging voices presented in our dogmatic world.

Gigi Scaria, Suvi Nieminen, and Erik Friis Reitan were invited on basis of their individual artistic merits and their ability to develop new projects that look at spatio-political problematics as well as the art-site relationship. Friis Reitan and Nieminen along with author Runo Isaksen travelled on a research trip organized by 3,14 to Kochi in the Winter of 2016, while Scaria has been in Hordaland on 3,14´s Artist in Residency program for two months in the Fall of 2016. The aim of this, has been to give the artists a concrete exposure, by travelling to observe and experience, then followed by time to reflect on that acquaintance, which lead to the artistic concepts exhibited, this again resulting hopefully in new experiences for the audience. An exhibition with an extraordinary juncture interlacing the act of deliberations with a twist that creates unity in diversity.

3,14 is committed to knowledge production, and with our program we aim to reflect upon the complex nature of international contemporary art and different contemporalities, served to a diverse audience. The focus includes presenting artist with established and renowned voices, recognizing the work of emerging artists, placing different media into new and meaningful contexts, and defining alternative movements and endeavors. 3,14 presents and questions the present for the future.

The exhibition is supported by:
OCA, Bergen kommune, Arts Council Norway, Hordaland fylkeskommune, Vederlagsfondet, Kulturdepartementet, Ullensvang herad, Kulturelt Utviklingsprogram (KUP), NBK.