09.09.2016 18:00-23:00
KULTURNATT

I forbindelse med 'Magic of Seven' av Gitte Sætre vil det bli utført en øvelse av utøverne i verket for publikum kl. 19.30-20.00 & kl. 20.30-21.00

Som i filmen jobbes der for å skape rom for å være, se, høre og utøve. En handling kontrasterende til en 7000 år gammel maskulin krigskultur. En verden vi alle kjenner, hvor krig har vært og fortsatt er normen for å tilegne seg ressurser, makt og posisjon.
Gratis inngang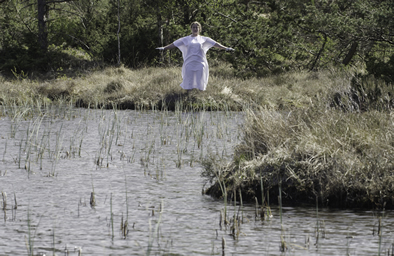 In connection with 'Magic of Seven' by Gitte Sætre, there will be performed a rehearsal by the performers in the work for the audience 7:30-8:00pm & 8:30-9:00pm.

More information: http://www.stiftelsen314.com/Exhibition.htm
.....................................................................................................
17.09.2016 16:00-17:00
Performance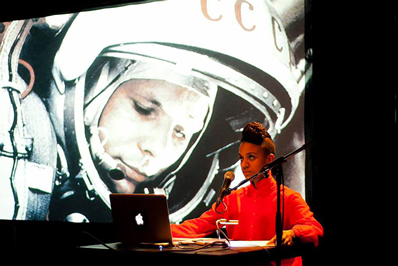 In connection with 'Rumors that Maji was a lie…'* by Kapwani Kiwanga 3,14 will be hosting the first chapter in the performance-trilogy project AFROGALACTICA (2011 – ongoing), by the Kapwani Kiwanga. Posing as an anthropologist from the future, the artist engages us in vast fields of knowledge relating to afrofuturism and African astronomy. Plunging into the past to retrieve archives of popular culture, she uses science fiction, to make projections about the future.

On December 8, 2058 the United States of Africa came into being. This date was chosen to commemorate the 100th anniversary of the first Pan-African Conference, which took place in Accra, Ghana, in 1958. At this historic meeting, the then President, Kwame Nkrumah endorsed the model of a United States of Africa, which called for the federation of African States. (…) As early as 2058, efforts were aimed to pull together various African initiatives in the field of space exploration under the umbrella of the Space Agency of the United States of Africa. The initial challenge was to coordinate all member states, while taking into account the different levels in practical experience in the realm of space exploration. (Extract from AFROGALACTICA: A brief history of the future)

Afrofuturism, anti-colonial struggle, collective memory, belief systems and different cultural ways of approaching the supernatural are recurrent concepts in Kiwanga's work. In most of her recent projects, the artist revisits her earlier training in anthropology and comparative religion, often assuming the role of a researcher. Her methodology includes assembling narratives and establishing scientific protocols in order to establish alternative ways to observe culture and its shifting characteristics. Her material sources range from academic papers to poetry; from science to myths and testimonies. By meticulously blending academic research with popular culture, facts with fiction, as well as past events with the present and with future projections, the artist not only undermines the authority of Western academia and hegemonic discourses, but also enables us to reflect and visualize alternative history lines and discourses.
*Rumours that Maji was a lie... (2014) was first commissioned by Jeu de Paume in Paris.
Kapwani Kiwangawas born in Hamilton, Canada (1978) and is based in Paris. After studying Anthropology and Comparative Religions at McGill University (CA), she attended the program "La Seine" at the Ecole Nationale Supérieure des Beaux-Arts de Paris, and also works at Le Fresnoy (a French national center for contemporary art). She was artist in residence at the MU Foundation in Eindhoven (NL) and at the Box in Bourges (FR).
Her work has been shown at renowned institutions and exhibitions, such as Centre Georges Pompidou, Glasgow Center of Contemporary Art, Museum of Modern Art of Dublin, Armory Show (NY), Bienal Internacional de Arte Contemporánea de Almeria (ES), Salt Beyoglu in Istanbul, South London Gallery (UK), Jeu de Paume in Paris, Kassel Documentary Film Festival.
She was 2016's commissioned artist by The Armory Show (NY), holding the solo show The Secretary´s Suite. Kiwanga was twice nominated for BAFTA, her movies have been rewarded in several international festivals.
[www.kapwanikiwanga.org]

.....................................................................................................
24.08.2016 19:00-21:00
Samtale og Kunstkatalog Lansering

Samtale mellom kunstner Carl Martin Hansen og kurator Bjørn Inge Follevaag, og ikke minst lansering av Carl Martin Hansen nypubliserte kunstkatalog.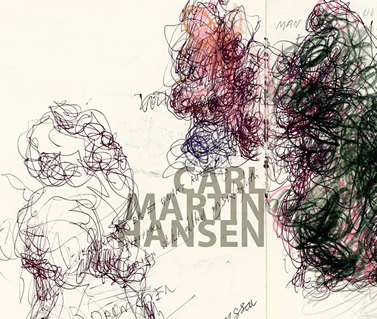 Kunstkatalogen er en visuell presentasjon av de ulike materialene kunstneren arbeider med. Kunstkatalogen formidler helheten, tanken og prosessen i kunstnerskapet.

Et vakkert verk i seg selv hvor billedcollager av skisser og prosesser i både skulpturelle og billedlige uttrykk presenteres i et design utformet i samarbeid med designer Eva Tuft.

Kunstkatalogen innholder tekst av Gitte Sætre, en anmeldelse av Tommy Olsson og et forkortet intervju av Bjørn Inge Follevåg.

Boken kan kjøpes for 80 kr. (NB: Vi kan dessverre bare ta imot kontanter)
Lett servering / Gratis Inngang

Carl Martin Hansen har hatt en rekke separatutstillinger i inn- og utland, bl.a. i Trondheim Kunstforening, Haugesund Kunstforening, Teckningsmuseet i Laholm, Sverige, Krefelder Kunstverein, Tyskland, Kunstverein Trier, Tyskland, Visningsrommet USF, Bergen, Tag Team Studio, Bergen og Kunsthuset Kabuso, Øystese. For tiden stiller han ut i Galleri BOA i Oslo. Han har deltatt på bl.a. Høstutstillingen og Vestlandsutstillingen flere ganger og var representert på Bergen Kunstmuseums utstilling BGO1 i 2010. For mer informasjon om kunstneren Carl Martin Hansen besøk nettsiden: [www.cs55.no/cmh]

Bjørn Inge Follevaag er freelance kurator som i en årrekke har jobbet med internasjonal kulturutveksling, særlig med Asia, men også i omfattende grad med Øst-Europa, Midt-Østen, Sør-Amerika og Afrika.
......................................................................................................
Contextualizing TALK in relation to 'Magic of Seven' by Gitte Sætre.
Speakers: Brian Drolet and Frans Jacobi
21.08.2016 14:00-16:00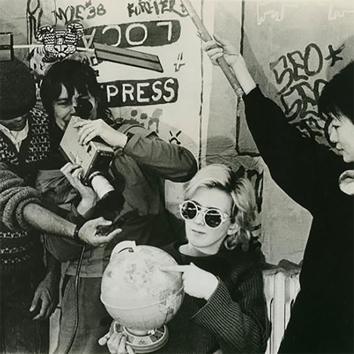 Curiosity Won´t Kill Cats, by Brian Drolet.
Brian Drolet is currently the Executive Director of Deep Dish TV, a non-profit New York based media organization that curates series of video documentaries produced by grassroots independent producers and providing venues to show their work. For the past 30 years Deep Dish has been a laboratory for new democratic empowering ways to make and distribute video. It is a hub linking thousands of artists, independent videographers, programmers and social activists.

Figurations of the Future: Active Time Revisited, by Frans Jacobi.
Frans Jacobi is a visual artist, working with performance, text and images. His performances and installations are often large scaled scenarios with multiple participants addressing to a range of political and societal issues. Since 2012, Jacobi has been professor in time-based media and performance at Bergen Academy of Art & Design. He completed his PhD 'Aesthetics of Resistance' at Malmö Art Academy/ Lunds University in 2012.
......................................................................................................
DEN FARLIGE REISEN
tegneserier og animerte tegnerutefilmer om flukt
I anledning Verdens flyktningdag. Norsk folkehjelp i samarbeid med Stiftelsen 3,14.
17.06. - 20.06.2016

Syriske flyktningers historie som tegneserie av Benjamin Dix, og animert tegneserierutefilm av Wael Toubaji.

> Tegneseriene «Den farlige reisen» av Benjamin Dix vil stå hele døgnet på Vågsallmenningen i perioden 17. - 20. juni.

> De animerte tegnerutefilmer av Wael Toubaji blir vist på 3,14 i perioden 17. - 19. juni.
UTSTILLING:
> Åpning på 3,14 fredag 17. juni kl. 15.
Prosjektet åpnes av Erlend Horn, byråd for sosial, bolig og inkludering.
APPEL:
Verdens flyktningdag:
> mandag 20. juni kl. 17. på Torgallmenningen
Ordfører Marte Mjøs Persen og leder av Solidaritetsungdommen Ingrid Aspelund.
Konsert med Razika.
DEBATT:
Verdens flyktningdag:
> mandag 20. juni kl. 19. på 3,14
Anders Nyland, Hasko Hasko og Wael Toubaji.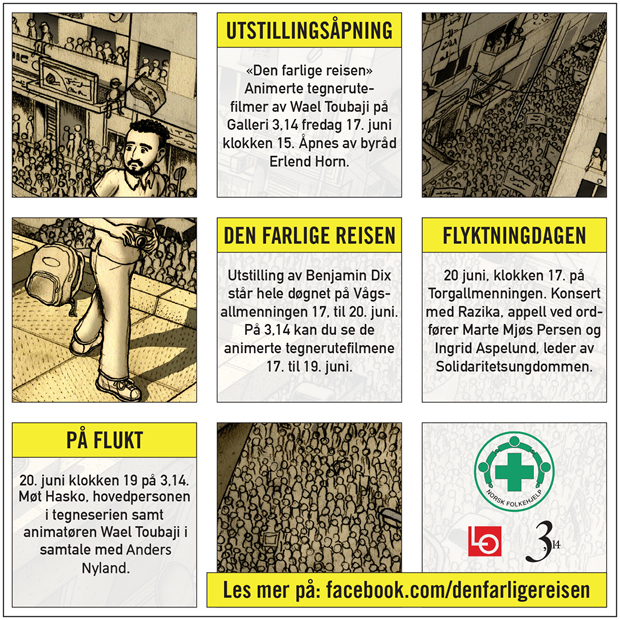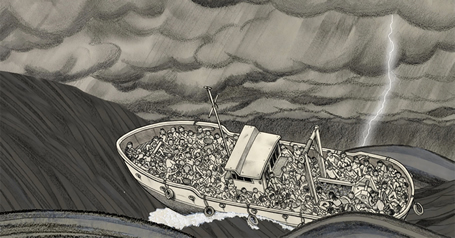 Følg Hasko, Khalid, og Mohammeds skildringer i form av tegnet dokumentar. Historiene som fremkommer i tegneseriene griper tak i deg på en ganske annen vis en vanlig medias fremstillinger av syriske flyktningers ferd til Europa og Norden.

Serien baserer seg på faktiske hendelser og personer. Den London-baserte serieskaper Benjamin Dix i PositiveNegatives har spesialisert seg på å skildre kontroversielle temaer gjennom tegneserieformatet, basert på førstehåndsberetninger. Han intervjuet flyktninger i Danmark og Norge i en måned før and valgte ut de tre historiene og enkeltmenneskene som berørte ham mest. Wael Toubaji har samarbeidet med PositiveNegatives i forbindelse med animasjonsverkene.

I de nærmeste dagene frem til og i forbindelse med verdens flyktningdag 20. juni, ønsker Norsk Folkehjelp Bergen og Stiftelsen 3,14 å vise verkene med tegneseriene ute i det offentlige rom på Vågsallmenningen og de animert tegneserierutefilmene av Weel i salen på 3,14. Dagen er opprettet for å få oppmerksomhet for flyktningers liv verden over. Flyktningkrisa i verden er mer alvorlig enn det vi kan få inntrykk av, men det er ikke her i Europa det er krise. Den virkelige krisa utspiller seg i landene som herjes av krig og konflikt, og i nærområdene.

Mer enn 60 millioner mennesker i verden – barn og voksne – er i dette øyeblikket på flukt. Flukten er farlig, og framtida er usikker enten de blir boende i nærområdene eller søker beskyttelse i et trygt land som Norge. En relativt liten del av de 60 millionene som er på flukt i verden kommer til Europa. Noen av dem kommer til Norge. Der møter de et stadig strengere norsk regime og et apparat som ikke er dimensjonert til å ta imot flyktningene på en god måte. Det gjør det vanskelig å starte livet sitt og finne tryggheten de la ut på flukt for.

I den norske debatten er det særlig flyktningene fra Syria som har fått oppmerksomhet. Det er naturlig. Konflikten her er en av de voldeligste og største verden har sett på mange år. Den begynte som et folkelig opprør mot et av verdens mest brutale regimer og endte opp i en blodig borgerkrig. Selv om islamisters ekstreme og voldelige oppførsel har preget nyhetsbildet de siste årene, finnes det fortsatt en moderat opposisjon i landet som ønsker at Syria i framtida skal bli et fredelig demokrati. Fremtidige generasjoner vil måle oss på hvordan vi håndterer denne krisen. Det handler både om å ta i mot de som er på flukt med raushet og respekt, og å gjøre det uten at det går på bekostning av de som trenger vår hjelp, støtte og solidaritet internasjonalt.

3,14 kan vise til en rekke utstillere og utstillinger som har aktualisert dette temaet på ulikt vis, direkte og indirekte som for eksempel med Current Disturbance av Mona Hatoum, What We Saw Upon Awakening av Lida Abdul, Empire´s Borders av Chen Chieh-Jen, El Dorado Giessbergstrasse av Danica Dakic, Tin Soldiers av Ala Younis, The Imaginary Country av Dinh Q. Lê, Dead Satellites av Shahram Entekhabi, Gateway av André Marandon, Migrations av Farhad Kalantary, Landscape – Mindscape av Kwestan Jamal Bawan.

Debattdeltagere:
- Anders Nyland har vært journalist og redaktør i 16 år. Han har blant annet vært ansvarlig redaktør og daglig leder i Akershus Amtstidende og sjefredaktør i Bergensavisen. Nyland har hatt et bredt engasjement på mediefeltet. Han har sittet i styret for World Editors Forum og vært styremedlem i Intetnational Press Institutes norske komité. Nyland har også vært leder for Hordaland avis- og medieforening, og styremedlem i Media Region Bergen.
- Hasko Hasko syrisk kunstner, undervist tidligere på kunstakademiet i Damaskus, bosatt i Danmark. En av tegneseriekarakterene i verket Den farlige reisen.
- Wael Toubaji er kunstner fra Damaskus bosatt i Danmark. Hans hovedfokus er animasjon og illustrasjon. Wael animerte tegneserieruter fra Den farlige reisen.